... unless you guys rise to the play.
I'm sure most of the people here, however long their boards have been running are feeling a real pinch from Facebook and Twitter.
... and I'm not saying it's right. Twitter is only useful as a tool to raise awareness, but it has made the internet surfer lazy and acquiesce to the notion that their broadcasts are limited to 140 characters. This is a plus for IP.Board and the forum because the functionalities provide much more freedom in their scope, but the forums still losing the battle.
Incidentally my forum is very new. Had I set it up 10 years ago, it would be a bustling community I'm sure, but now in 2012 it's a real struggle. This is a positive though because it allows me to see the inevitable that the more established forum administrator might be hoping goes away.
IP.Board as a company is in for a very rocky road if significant changes aren't made pretty quickly let's face it.
The new update 3.3 was great, with some reasonable new features, but you aren't stepping up to the play I'm afraid. The way things are going the forum will be dead within 5 years.
I loved the prospect of the bigger share buttons for topic starters on thread creation...
... but the above ain't good enough I'm afraid.
Like it or not Facebook and Twitter have, and soon Google+ will have a massive domination over the internet. IP.Board isn't riding off their success enough.
How many people actually notice those buttons as their attention diminishes on approach to the bottom of a forum topic?
How it should look :
That's at the base of the header-post, then the replies start, and again at the bottom of each page of replies the options to share should be highly visable.
And look at the way websites are constructed now. It's best practice to have share buttons at both the bottom and the top of any webpage. As we know not many people actually make it to the bottom of any page. So in addition each thread should look like this :
They also habitually read the header post, three or four of the replies, (perhaps they found the topic content interesting, but didn't like the way the comments were heading or the comments lacked interest) and scroll back up. On exit it would be great if they noticed a method to share.
I've also incorporated share buttons at the top of the board index :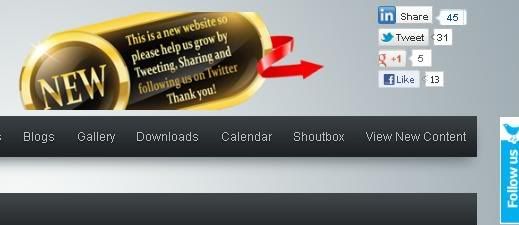 But this shouldn't be up to the administrator. A more professional looking widget such as what Mashable.com has should be default on each forum :
http://mashable.com/
These are just images I've quickly spliced together in 10 minutes. You'd naturally have all the most dominant share methods embedded. (incidentally I'm still amazed that LinkedIn, one of the top ten / top 15 websites in the world is left completely uncatered for)
Having the IP.Board look like this would put you well on the way to rescuing yourselves from the inevitable, but there are other methods I can think of that would turn the tables somewhat. I'm left wondering though "Should it really be up to me to do this companies thinking for it. I'd imagine they pay people to exhaust avenues like this, maybe I should be paid." Would I reel off ideas simply for the sake of my own board? Probably not.
What you're about to see is websites such as Twitter and Facebook incorporate more and more of the functions which make IP.Board a better format as time goes on until ultimately they'll be the new forum... and it would be a sad outcome.
Adapt or die.